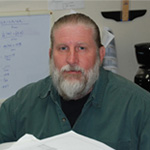 Thorn Collins
Designer/Sales
Where are you from?
Walnut Cove – born and raised baby!
What do you like best about your job?
Figuring out different ways to accomplish things.
What is one thing few people know about you?
Do you have pets?
They are my wife's pets, but I will sell them.
How would you like to be remembered?