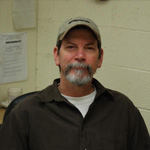 Donnie Hedgecock
Sales/Account Manager
Where are you from?
I was born in High point, but have lived in Walnut Cove since I was 10 years old.
What do you like best about your job?
Meeting new people and customer service
What is one thing few people know about you?
I collect minerals and ID/eat edible, wild foods.
Do you have pets?
I have a great dog named Alley, she is a mastador bull mastiff/lab.  I think she is smarter than some humans.
How would you like to be remembered?
As a fair, honest, hard-working and nice guy.