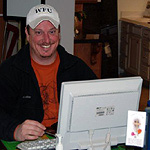 David Bray
General Manager
Where are you from?
Born and raised right here in beautiful Stokes County – Walnut Cove, NC.
What do you like best about your job?
I like the staying busy and the customer interaction.  You never know what the day holds.  I could be ordering lumber or mixing five gallons of paint for a customer one minute and the Boom…I'm talking to the IRS or planning a Board Meeting the next. When you work for a privately-owned company you have to wear a lot of hats and I've always been a hat guy!!
What is one thing few people know about you?
I'm an avid sportsman/hunter.  I spend most of my "free" time in the words or on the water with my wife and kids in tow.  We all love to chase game or wet a hook and I believe it teaches patience and respect in today's "right now" world.
Do you have pets?
One dog, Samuel.  He is a beagle/blue tick hound mix.
How would you like to be remembered?
As a great Dad, Husband, Friend and a pretty slick business man..hehe.