Composite Decking
We stock Tamko, Evergrain, and Trex decking in a vareity of colors and lengths.  We can special order almost any other brand on the market in a timely manner.
• Trex
• Timber Tech
• Tamko
• Genovations
• Azek
• Gossen
TREX Composite Decking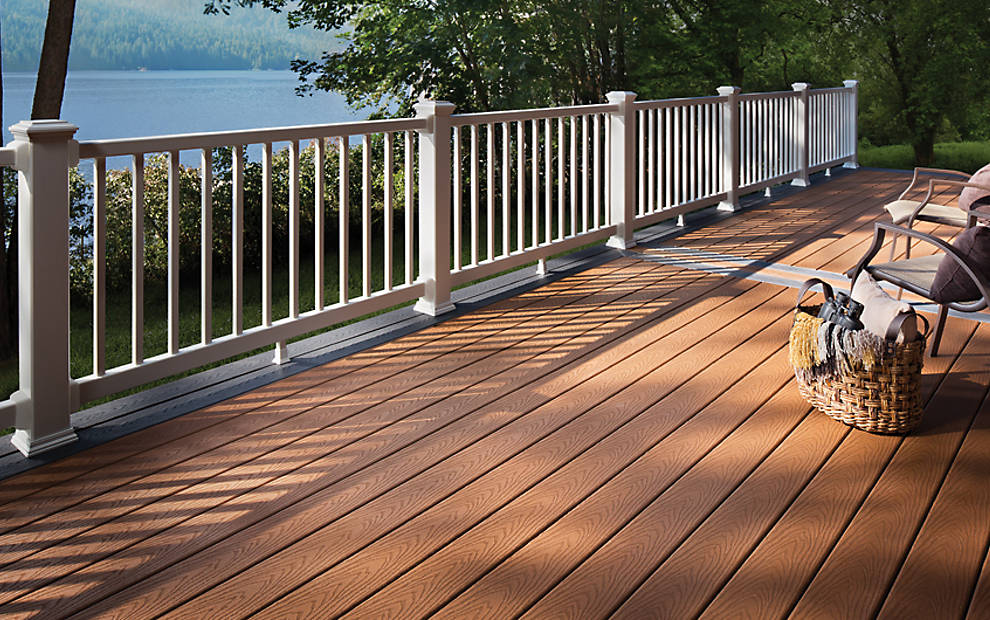 TREX manufactures composite decking, deck railing and fencing products for residential and commercial applications while meeting the needs of contractors and homeowners nationwide. TREX composites created the benchmark for quality composite decking, and railing products and are a great fit for North Carolina's weather.
TREX Select Composite Decking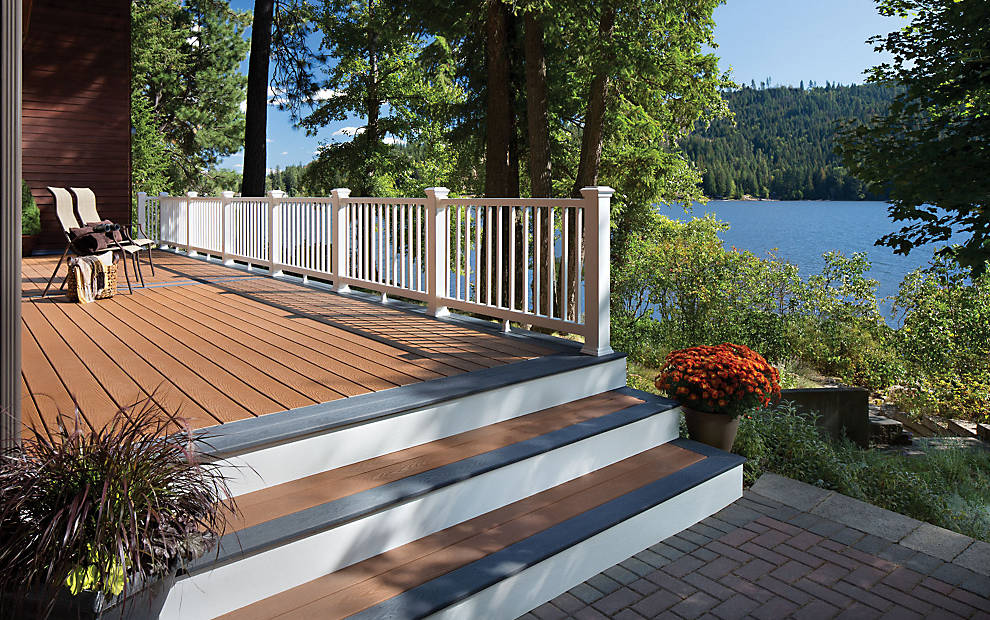 With such an easy design scheme, Trex Select decking and railing system adds our legendary luxury to your home more affordably than ever. While Trex Select decking features our hallmark high-performance shell technology and nature-inspired colors, the complementary white railing is a simple solution for a clean finish. Now more than ever, you can complete your high- caliber outdoor living system without compromise.
High Performance
Stands up to both weather and weekend mishaps alike, thanks to its Trex®-sanctioned shell.
Resists stains and mold better than traditional composites and is uniquely adapted to our climate in North Carolina.
Perennial Beauty
Comes in four easygoing colors that pair smartly with any style home.
Offers a soft, splinter-free finish that's comfortable underfoot.
Trex Through and Through
Backed by the Trex 25-Year Limited Residential Warranty.
Care and Cleaning Guide For TREX Composite Decking
All exterior building materials require cleaning. We recommend a basic cleaning with a composite deck cleaner or combination of soap, hot water and a soft bristle brush. Ideal times to clean are just after installation and then on a semi-annual basis (typically spring or fall is most conducive with the weather). This will help to maintain the beauty of your Trex outdoor living space.
| | |
| --- | --- |
| Dirt and Debris | The affected area should be sprayed off with a hose to remove surface debris. Use warm, soapy water and a soft bristle brush to remove dirt and debris from the embossing pattern. |
| Chalk Lines | High permanence chalk lines may discolor the surface. Use only Irwin Strait-Line®* Dust-Off Marking Chalk (purple) available at www.Irwin.com. |
| Tannins Due to Debris | Remove all debris from deck using a hose or broom. Once the deck surface is dry, apply a "deck brightener" ** to the deck as directed by the manufacturer. Deck brighteners contain oxalic acid, which will remove tannins. |
| Ice and Snow | A plastic shovel may be used to remove snow from the deck. Use calcium chloride or rock salt to melt the snow and ice from the deck surface. |
| | |
| --- | --- |
| Oil/Grease/Food | All food spills should be removed as soon as possible. The surface must be cleaned within seven days to maintain the stain warranty. To remove, spray off with a hose and use warm, soapy water and a soft bristle brush to remove spills from embossing pattern. |
| Mold and Mildew | If debris, such as pollen and dirt, is allowed to remain on the deck surface, mold can feed on the biofilm. Using a hose and warm, soapy water with a soft bristle brush is recommended to remove the food source and mold. |
| Using a Pressure Washer | A 1500psi power washer may be used on Transcend shell surface to remove dirt and debris. Use a fan tip at least 4″ (10.2 cm) away from the shell when using a power washer. |
Feel good about choosing TREX
Reuse and recycle. Earth-friendly and sustainable, TREX is committed to smart, sustainable practices.
Visit our store in Walnut Cove, NC for expert help in choosing your next TREX product.
________________________________________________________________________________
EverGrain Composite Decking by Tamko
Compression Molded For Deep Grain Beauty



EverGrain Envision comes with a 5-year Full Start Period on its Limited Warranty, which covers all material and labor cost.
See the EverGrain Envision Limited Warranty for complete details.
EverGrain® Composite Decking
Visit our store in Walnut Cove, NC for expert help in choosing your next EverGrain product.